On Monday, December 3, at San Quentin State Prison, 53-year-old Herminio Serna, a death row inmate, was pronounced dead. The next day, guards found a second condemned man, Joseph Perez Jr., 47, unresponsive in his cell. After 10 minutes of CPR, prison staff declared Perez dead, as well.
While the official causes of the two deaths are still pending, on Wednesday, San Quentin officials announced that prison nurses must come to an "urgent" meeting to discuss the possibility that contraband drugs may have been involved, according to the San Francisco Chronicle. The emailed meeting notification said the prison health care workers would be talking about "contraband causing serious fatalities/death."
According to San Quentin Deputy Press Secretary Terry Thornton, there have been instances of other non-fatal overdoses within the walls of San Quentin.
Thornton blamed the flow of prison contraband, including weapons, drugs, and cell phones, on visitors, staff, and even drones. Visitors and prison employees, specifically, Thornton told the SF Chron, "are unfortunately the main entry point."
The contraband isn't unique to the maximum-security prison, however. Prison systems and local jails across the nation struggle to stem the influx of cell phones, drugs, and other banned items. And law enforcement officials often blame visitors for contraband getting into inmates' hands.
In recent years, jails, specifically, have replaced in-person visits between incarcerated people and their loved ones with virtual video visits, citing safety and contraband concerns.
More than 500 jails across the nation reportedly have contracts with video call providers like GTL (Global Tel*Link) and Securus.
While these video products are far cheaper for facilities to implement than in-person vists, virtual visits don't actually keep contraband out of lockups, says Jorge Renoud, a senior policy analyst at the nonprofit Prison Policy Initiative.
"Sheriffs raise the specter of visitors loaded down with drugs, somehow passing them through physical searches and through body scanners and through glass partitions, with the only solution being a move to remote technology," Renoud writes. "For one thing, this scenario is implausible, given that in-person jail visitors are virtually always separated from their loved ones by a glass window. But more importantly, by blaming contraband on in-person visitors, sheriffs distract from a far more likely source: jail staff."
When Renoud looked at 2018 news stories of arrests and charges brought against people smuggling contraband into jails, almost all the reported cases involved jail workers, rather than visitors. Just this year, 20 jail workers in 12 jails were arrested, indicted, or convicted of smuggling (or planning to smuggle) goods into their lockups.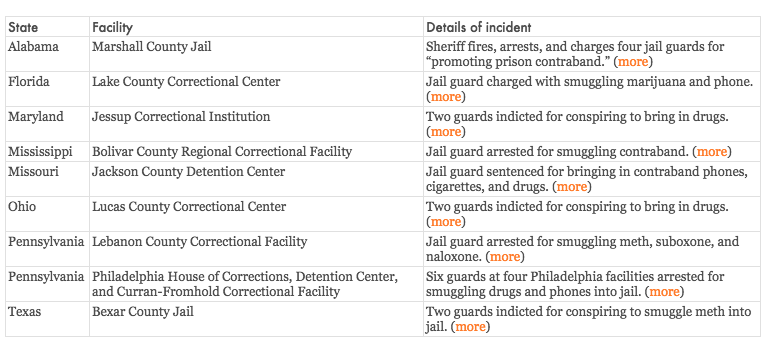 Most of the 12 jails involved had, in recent years, gotten rid of in-person visits and replaced them with video calls.
Video visitation is not all bad. It offers families separated by great distance from their incarcerated loved ones with an avenue for connection. But, PPI says, it should be a supplement to—not a replacement for—in-person contact visits.
Interestingly, prisons have been slower to adopt video call systems than jails, despite the fact that, as a supplemental service, Skype-like calls would useful for inmates kept hundreds or thousands of miles away from home and family.
Instead, jails, which already generally separate visitors from incarcerated people with glass partitions, often replace these through-the-glass visits with video visits.
In 2016, California Senator Holly Mitchell (D-Los Angeles) introduced a bill to address the rise of video conferencing in jails, stressing that incarcerated individuals' odds of successful reentry "rise in proportion to how closely they stayed in touch with family members while in jail." The bill, SB 1157 would have required counties to provide in-person visitation in jails by 2022. Governor Jerry Brown vetoed the bill, arguing against a statewide mandate for local jails. In the veto message, Brown directed the Board of State and Community Corrections, which creates jail visitation regulations, to address the issue, instead. A BSCC survey found that five out of California's 58 states allowed no in-person visits. In five other counties, at least one jail banned in-person meetings. And 10 more counties were building jails that did not include space for face-to-face visits.
In response, in February 2017, BSCC voted 7-2 to require future jail construction plans to make space for in-person, face-to-face visits. The board decision also blocked sheriffs from creating new policies that disallowed in-person visits, but let existing policies remain in place.
Several months later, California legislators introduced a budget trailer bill to require jails to accommodate in-person visits. Like the BSCC regulations, the bill excluded jails that had already implemented video-only visitation policies. Additionally, the bill banned the state's 58 counties from charging inmates and their families for on-site face-to-face or video visitation.
---
Image: Utah Department of Corrections.