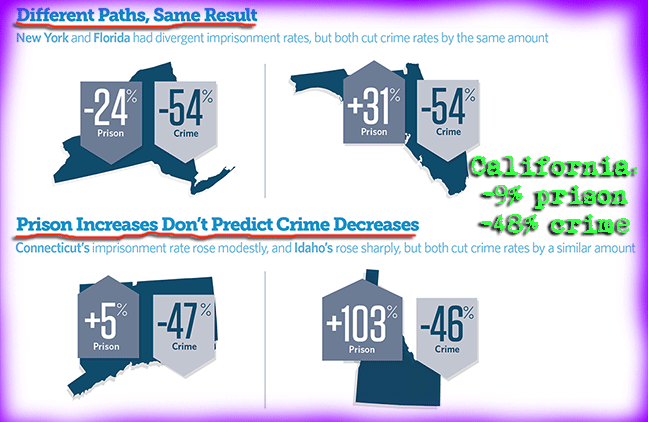 THE COMPLICATED CONNECTION BETWEEN HIGHER INCARCERATION AND LOWER CRIME RATES
Since 1994, when Congress passed the "tough-on-crime" Violent Crime Control and Law Enforcement Act, the national incarceration rate has risen 24% while the crime rate has dropped 40%. But the link is not that simple.
A new Pew Charitable Trusts infographic shows that some states have successfully lowered both crime and imprisonment. California is among the top three states with the biggest reductions of crime and incarceration, along with New York and New Jersey.
For further reading on the issue, Vox's German Lopez has an interesting story explaining a bit more about mass incarceration, the Violent Crime Control and Law Enforcement Act (which was enacted when violent crime levels were already falling), and what the Obama administration is doing to counteract the outdated law.
---
CALIFORNIA FOSTER CARE SYSTEM NOT INVESTIGATING MISTREATMENT COMPLAINTS QUICKLY ENOUGH
The state's Department of Social Services has nearly 1,000 pending investigations of child mistreatment that have sat unaddressed past the three-month deadline. More than half of those complaints—for things like abuse, malnourishment, and poor living conditions—have been pending for more than six months.
The LA Times' Garrett Therolf has more on the numbers. Here's a clip:
Agency officials blame the problem on chronic staffing shortages and warn that the backlog is likely to persist for at least another year.

"We didn't get into this overnight, and we are not going to solve it overnight," said Pam Dickfoss, who was appointed deputy director of social services earlier this year by Gov. Jerry Brown.

The majority of the lagging investigations — which include allegations of serious abuse, inadequate food, homes in disrepair or other licensing violations — have remained open for more than six months, according to data obtained by The Times under the California Public Records Act.

The delays can make investigations more difficult, officials said. Witnesses become unavailable or memories fade. And children could remain in potentially substandard homes as inquiries back up.

In one case, investigators took four months to confirm that a child's hands had been placed under scalding water by other children, resulting in second-degree burns, records show. It also took four months to determine that another child was not being fed regularly and that his surroundings were filthy and stank of mildew.

The backlog has grown steadily since Brown took office in 2011, when the department probed 3,491 complaints and finished 60% on time. This year, complaints against state-licensed foster homes requiring investigations are on pace to exceed 4,000, and only 40% of those inquiries are being completed on time, records show.
And this isn't just a state level issue, it's happening at the county level, as well:
More than 6,100 current county investigations have remained open for more than 30 days, a nearly eight-fold increase since 2011. Cases open more than 60 days have increased from from 2,700 to 3,559 in the same period. Department of Children and Family Services Director Philip Browning said he has deployed a strike team of top managers to develop a new plan to reduce the backlog.
---
PRISONERS RECEIVE JUST TWO VISITS DURING INCARCERATION ON AVERAGE
Using Florida prison data, a study in Crime and Delinquency found that inmates received an average of only two visits throughout the entirety of their incarceration. Not surprisingly, the Florida research found that inmates who received more visits had better outcomes while behind bars and once released.
The study showed that inmates receiving the most visits were around 20-years-old, had fewer offenses, were white or latino, or had come from communities that had either high incarceration rates or were considered socially altruistic. Black inmates and those who were older or had multiple offenses received fewer visits.
University of Minnesota sociology professor and author, Chris Uggen, has more on the study for Sociological Images. Here's a clip:
There are some pretty big barriers to improving visitation rates, including: (1) distance (most inmates are housed more than 100 miles from home); (2) lack of transportation; (3) costs associated with missed work; and, (4) child care. While these are difficult obstacles to overcome, the authors conclude that corrections systems can take steps to reduce these barriers, such as housing inmates closer to their homes, making facilities and visiting hours more child-friendly, and reaching out to prisoners' families regarding the importance of visitation, both before and during incarceration.
These are common problems nationwide, particularly in large states like California, Texas, and Montana.
---
SUPREME COURT MAY SOON SET NATIONAL STANDARD ON GAY MARRIAGE
Federal judges across the US have been overturning state bans on gay marriage. There have been more than twelve rulings, so far, this year. But none of these rulings (nor last year's Supreme Court rulings on Prop 8 and the Defense of Marriage Act) have set the national standard. For now, gay marriage rights are in the hands of the states.
That may change as SCOTUS has decided to review a package of seven gay marriage cases from lower courts, and experts say the high court will most likely choose to take up one of the cases, if not more.
Each of the seven cases challenges a state's right to ban gay marriage. And all but one case would call on the court to decide whether gay marriages should be recognized in other states.
Mother Jones' Hannah Levintova has more on the issue (as well as a rundown on each case). Here's a clip:
This cluster of cases centers on two key questions: All seven ask SCOTUS to consider whether a state law limiting marriage to a union between a man and a woman violates the 14th Amendment. Six of the seven cases also raise the question of whether states must recognize same-sex marriages performed in other states.

The Supreme Court ruled on two landmark gay marriage cases in 2013: Hollingsworth v. Perry, which overturned California's Proposition 8, and US v. Windsor, which invalidated the Defense of Marriage Act. But neither weighed in on the constitutionality of same-sex marriage bans, leaving the choice to allow gay marriage up to each individual state. If the court takes one of these new cases, it's likely that its decision will have a broad and more definitive impact. "Should they decide that the 14th Amendment actually protects the rights of same-sex marriage, that would have the effect of being binding on the federal government," says Jane Schacter, a professor at Stanford Law School.

The cases before the court involve the 14th Amendment's guarantees to equal protection under law and due process. If the high court rules that it is a violation of either promise for one state to deny a marriage license to a same sex couple, then it would become unconstitutional for any state to do so. Any state that failed to comply with the ruling, Carpenter elaborates, "would face immediate lawsuits—a complete waste of time and money."

It's anyone's guess which case (or cases) SCOTUS may choose…
---
---
Above visual taken from a portion of this Pew infographic.