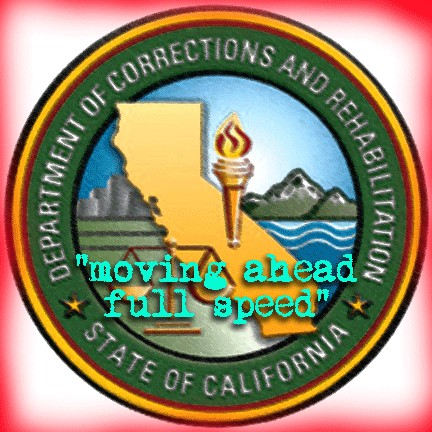 STATE READIES THOUSANDS OF PRISONERS FOR RELOCATION OUT-OF-STATE AS DEADLINE LOOMS
California is gearing up to move about 5,500 inmates in the event that the federal three-judge panel does not grant the state's appeal for more time to reduce the prison population.
Jeffrey Beard says that if the federal judges don't rule soon, the state will likely start transferring inmates out-of-state by the beginning of October. Although Beard says no deals have been made yet, he move, part of Gov. Jerry Brown's $315M backup plan to comply with an end-of-year deadline, would likely be to Corrections Corporation of America's for-profit prison facilities. (For WLA's Tuesday post on CCA's slight issue with, you know, contempt of court, go here.)
KQED's Scott Detrow has the story. Here's a clip:
California's Department of Corrections and Rehabilitation isn't waiting around for the judge's response. As Brown and legislative leaders focus attention on their rehabilitation and treatment-centered approach, the department is already laying the groundwork for relocating prisoners. Corrections committees are already screening and processing inmates, looking for possible out-of-state transfer candidates. The actual transfers will likely begin in about two weeks.

That's leading to panicked phone calls like the one Monay Cherry received from her fiancé, Maurice Vale. "He doesn't want to go," she said, recalling the tense conversation. "He was really distracted. And I had to tell him to calm down and go read his Bible."

…Vale is an inmate at Deuel Vocational Institution in Tracy, a vocation-focused prison in San Joaquin County. Cherry said Vale was called in Monday afternoon, along with about 30 other prisoners, and told he's being processed for an out-of-state transfer. That worries her, she said, because it's hard enough to visit a prison two hours away. "So if he was to go out of state, I probably wouldn't be able to make it. And if I did make it, I don't even know what the criteria is for me to be OK'd (to visit)."

[SNIP]

The state has asked federal judges to respond to the request for an extension by the end of September. Corrections Secretary Jeffrey Beard says his department can't just sit around and wait for the ruling.

"We're preparing if we have to move people out of state," he said. "Everybody's moving ahead full speed as if we'll have to do that. We're hoping we won't have to, but if we do we'll be ready."

Beard said about 5,500 inmates would likely be moved. The state hasn't finalized any agreements with private prison companies yet, but facilities in Colorado, Oklahoma, Michigan and Minnesota are all possible locations.
(You can also listen to the audio version, here.)

---
NATION'S CRIME RATES GO DOWN, BUT LIFE SENTENCES SKYROCKET
A new report from the Sentencing Project found that while crime rates have steadily decreased since 1984, the population of those serving life sentences in the US has quadrupled. There are some pretty interesting statistics, like the fact that there are 10,000 people nationwide serving life for non-violent offenses.
Here is a clip from the introduction to the report:
After a decades-long surge, modest declines in prison populations are now occurring nationally and various state legislatures have reformed sentencing laws that reduce the incarceration of people convicted of certain offenses. In 2011 and 2012, this led to 17 states closing some of their prisons. Despite these developments, the number of prisoners serving life sentences continues to grow even while serious, violent crime has been declining for the past 20 years and little public safety benefit has been demonstrated to correlate with increasingly lengthy sentences.

This report details the rise of the lifer population in America's prisons, now standing at nearly 160,000, with almost 50,000 people serving life sentences without parole (LWOP).
And here are some of the key findings:
– One of every nine individuals in prison is serving a life sentence.

– The population of prisoners serving life without parole (LWOP) has risen more sharply than those with the possibility of parole: there has been a 22.2% increase in LWOP since just 2008.

– Approximately 10,000 lifers have been convicted of nonviolent offenses.

– More than 10,000 life-sentenced inmates have been convicted of crimes that occurred before they turned 18 and nearly 1 in 4 of them were sentenced to LWOP.
In 2012, California had, by far, the highest number of inmates sentenced to life in prison, at 40,362—25% of the total US lifer population. Here's more on California's statistics:
In certain states the adoption of "three strikes and you're out" laws has significantly expanded the number of individuals sentenced to life. California maintains a quarter (25.2%) of the nation's life-sentenced population. Twenty-two percent (8,914 of the 40,362 lifers) are serving life sentences because of the state's notoriously tough Three-Strikes law. This law, enacted in 1994, mandated a life sentence with the possibility of parole upon a third conviction but unlike other states, the third offense could be any felony, not necessarily a serious or violent one.

While the law was passed with the promise that it would take persons convicted of serious and violent offenses off the streets, in reality fewer than half of the individuals sentenced under the law had been convicted of a violent offense as their third strike. Fifty-five percent were convicted of a nonviolent offense, including 16% for a drug offense and 30% for a property crime. Passage of Proposition 36 in 2012 changed the law by narrowing the scope of eligible offenses.36 Because reform to the law applies retroactively, as many as 3,000 prisoners serving life sentences qualify to be resentenced.

California is also undergoing changes to its overall prison population as a result of the 2011 Brown v. Plata Supreme Court ruling. This decision effectively ordered a massive reduction in the state's prison population in order to bring the state into compliance with the 8th Amendment ban on cruel and unusual punishment. As a result, the drop in the overall prison population as part of the Public Safety Realignment makes the proportion of life-sentenced inmates more pronounced.
---
A REPORT FROM LAST MONTH THAT WE DON'T WANT YOU TO MISS REGARDING THE INORDINATE ARRESTS OF BLACK YOUTHS IN OAKLAND
Black kids in Oakland comprised a hugely disproportionate number—78%—of youths arrested between 2008-2012, more than half of which did not result in charges, according to a report by the Black Organizing Project, Public Counsel, and the NorCal ACLU.
Susan Ferriss of the Center for Public Integrity wrote a good and accessible analysis of what this report means for California's kids. Here's a clip from the beginning:
"Shockingly," the report also says, more than half of those arrests did not lead to charges or further involvement by probation officials. Black kids represented 78 percent of the youths whose arrests were not "sustained" in the end, according to an analysis of information obtained by the report's authors.

Data also showed, the report said, that 72 percent of calls from schools to the Oakland Unified School District's own police force were requests to respond to allegations of "non-criminal conduct" by students or others. Only 28 percent of calls were requests to respond to allegations of drugs, alcohol, weapons, crimes involving property or crimes against a person.

"This raises questions about the appropriate role of police in our schools," the report says. "Why are police being called for so many non-serious incidents, situations that may be better handled by counselors, administrators, school staff or parent volunteers?"