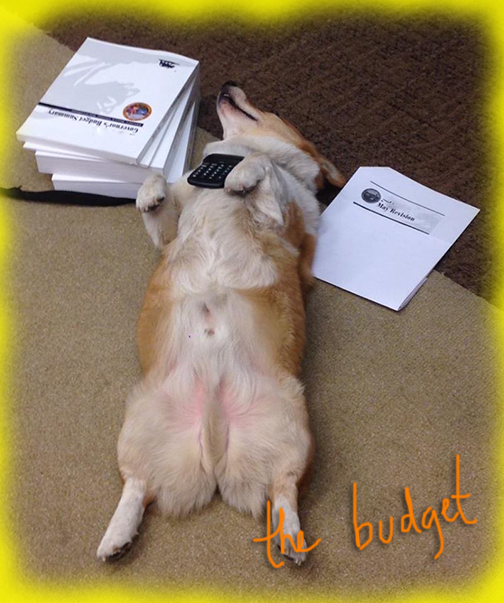 BROWN'S CALCULATED PROP. 47 SAVINGS INCREASES BY $10 MILLION
California Governor Jerry Brown has increased the estimated savings from Proposition 47 by $10 million—from $29.4 million to $39.4 million—in the latest budget revision for the 2016-2017 fiscal year.
If you'll remember, voter-approved Prop. 47 reduced six non-serious property and drug-related felonies to misdemeanors, and was supposed to save the state more than $100 million each year.
That savings is earmarked for mental health and drug rehab programs for criminal justice system-involved people, efforts to reduce truancy and help at-risk students, and for victims services.
The governor's January budget calculated those Prop. 47 savings to be $29.3 million. A report from California's non-partisan Legislative Analyst's Office found that Brown's budget under-counted the dollar amount Proposition 47 saved the state by about $100 million, overestimated costs, and diverted money from the Safe Neighborhoods and Schools Fund—where all the Prop. 47 savings is supposed to end up—to send it back into the prison system. The ACLU and other advocates have also criticized Gov. Brown for trying to put Prop. 47 money back into prisons by subtracting certain supervision and court costs from the Prop. 47 savings total.
This latest budget draft now heads to the California Legislature, where it will go through a period of negotiations, during which time lawmakers will have to step in and decide what savings Prop. 47 is actually responsible for producing.
The LA Times editorial board says that Gov. Brown may still be undercounting the savings. The Times board points out that the LA City Council, LA County Board of Supervisors, and others have urged Gov. Brown to go with the savings calculated by the Legislative Analyst's Office, and calls on lawmakers to hold the governor's bureaucrats accountable, and make sure the dollars go to the rehabilitation and anti-recidivism efforts, as voters intended. Here's a clip:
…Proposition 47 is right on schedule, and local leaders know it. The state calculates prison savings on an annual basis, and the first full year under the ballot measure does not end until June 30. Counties and cities will then submit their requests, and funds will begin flowing later this year.

The problem is not that the money is late — it's not — but rather that Gov. Jerry Brown may be lowballing the actual savings figure. Instead of the $150 million that the state legislative analyst projected would be saved, the governor identified only a small fraction of that in his January spending plan. In the revised budget he released last week, he upped the figure — but only to $40 million, well short of the mark.

There are many ways to crunch numbers. Democratic Assemblyman Reggie Jones-Sawyer of Los Angeles, for example, used to be an L.A. City Hall bureaucrat and learned to cover up savings in order to keep it on hand for other projects.

"I know how to hide money," he told a gathering of residents and activists at the Community Coalition in South Los Angeles recently. "I know how to block budgets."

Jones-Sawyer promised to use that savvy to press the governor's bureaucrats for a larger, more realistic savings figure to be distributed under Proposition 47.

We take him at his word — and hold him to it. The same goes for other members of the Legislature, whose home counties and cities need the funding guaranteed under the ballot measure. It falls to them, in the few weeks before the budget is finalized, to go to bat for California voters who have demanded a fundamental shift in criminal justice spending from prison expansions to locally based crime prevention and anti-recidivism programs.
---
MONEY FOR REDUCING HOMELESSNESS
In the May budget revision, Gov. Brown has also endorsed a $2 billion bond plan to tackle chronic homelessness among California's mentally ill population.
"Homelessness plagues communities across our state so I'm very pleased Governor Brown has embraced the Senate's bipartisan 'No Place Like Home' proposal to direct $2 billion from the Prop 63 bond to bolster local efforts to tackle this crisis," said California Senate President pro Tem Kevin de León (D-Los Angeles).
The plan would have to win a two-thirds majority vote in the state Legislature to pass. Then, the state would use money from the bonds to fund affordable housing and homelessness services—via a Mental Health Services Act Supportive Housing Program and Tenant-Based Rental Assistance Program. Brown's May budget revision calculates a first year funding for these programs of $267 million in bond revenue.
---
ADVOCATE GROUPS' RESPONSES TO THE REVISED BUDGET
Gov. Brown also wants to add $2 billion to the state's rainy day fund, with an eye toward an expected economic slowdown in California's future. "The surging tide of revenue has begun to turn," Brown said. "Quoting Aesop's fable of the ant and the grasshopper: 'It is best to prepare for the days of necessity.'"
Instead of putting that $2 billion toward the rainy day fund, Alex Johnson, Executive Director of Children's Defense Fund-California, says that money should be spent on important programs for children and families that suffered during the recession.
"During the recession, Governor Brown and the California Legislature balanced the budget on the backs of the state's most vulnerable children and families, by cutting basic needs CalWORKs grants for families, eliminating child care slots, and ending successful children's health programs," said Johnson. "Now is the time to use the state's budget surplus to protect and invest in essential programs to level the playing field for California's children…"
The revised budget does a disservice to poor communities of color by not increasing funding for "prevention-based services and early education," according to the Advancement Project.
"The May Revise proposes to abolish transitional kindergarten, thereby eliminating early learning opportunities – rather than expanding them," the Advancement Project said in a statement. "This is especially wrong headed in the light of the growing science supporting early learning as well as the recent polling showing that Californians overwhelming support greater early learning spending, not less."