by Alex Sanchez
From juvenile hall to county jail to prison to deportation, I've experienced first-hand the lifelong obstacles that contact with the criminal justice system can produce. As a troubled youth in the mid to late 1980s, I found that my time in LA County Probation's juvenile halls and camps provided few resources or guidance to change my negative behavior. Instead, I learned better ways to defend myself against other troubled, gang-involved youth. It was gladiator school, in those days, and the fights were sometimes even encouraged by the probation staff.
In 1994, my actions led me to be deported back to El Salvador where, on my second day in the country, I was threatened by a local gang and, in the following days, confronted with violence far worse than I had ever experienced in Los Angeles. Pressure by the government and the civil police to eradicate the gangs in El Salvador led to the formation of death squads who killed anyone perceived to be involved in gangs—whether they actually were or not.
I decided I had to find a way to come back to the United States to be a father to my one-year-old son and to look for a better life for myself, and for him.
In 1997, I met Magdaleno Rose-Avila, the founder of Homies Unidos in El Salvador, who was spending time in LA. He introduced me to civil rights activist and former California senator, Tom Hayden, and others who were doing community work I believed was valuable. The next year, we founded Homies Unidos in Los Angeles.
More than two decades later, there are more than 650 youth in LA's juvenile camps and halls. A large number of them are migrants who have faced incredible social and economic challenges in their short lives. Typically, English is not their first language, they are often separated from their families, and the culture shock they experience makes these young people an easily targeted population when they move into disenfranchised communities where gangs flourish and violence is an everyday occurrence. These young people and their sisters and brothers are often victims of crime well before they ever think of breaking the law themselves.
---
Healing is Part of Prevention
To best serve our at-risk youth, we first have to understand the environmental factors that feed the school-to-prison pipeline that is decaying their communities.
Working with hundreds of kids, I've witnessed the transformation that can occur when young people are given an opportunity to heal from their individual traumas. Rehabilitation starts with prevention, and both are rooted in programs that redirect negative behaviors through social support, education, and the cultivation of a sense of purpose and worth.
Homies Unidos has created a list of programs that serve the needs of these youth. Our programs range from tattoo removal, vocational training, reentry support, and the empowerment of young people and their families to effectively advocate for just policies for their communities, and for themselves.
When Supervisor Hilda Solis asked me to serve as a community representative of the First District on the Probation Reform and Implementation Team (PRIT), I jumped at the opportunity. Through this body, I am part of a panel of former probationers, mental health specialists, probation experts, and public defenders who will help put forth recommendations for positive reform of LA County's probation system, a system that I know all too well. We are also tasked with creating the job description and criteria for selecting the best candidates to serve on a probation oversight commission responsible for overseeing probation policies, and for holding the nation's largest probation agency accountable to the county and the communities it serves.
---
Punitive Policies Simply Don't Work
I'm proud of the effort that the LA County Board of Supervisors put forth to ban the use of pepper spray in LA County juvenile facilities, and of the detailed plan that the PRIT has produced to phase out pepper spray carefully and safely over 12 months.
International experts have found again and again that punitive policies do not work. Instead, they do damage. The time to change LA County Probation's policies is now. We can no longer stand for our youth to receive sub-par resources in one of the richest cities in America with one of the largest probation budgets in the nation. Beyond just phasing out the use of pepper spray, we have to focus on creating programs that focus on the rehabilitation of our youth, especially some of our most vulnerable populations, migrant youth.
We need to change the way business has been done for decades. Approximately 90 percent of our county's incarcerated youth are suffering from some kind of mental health issue combined with trauma. But this is a problem that probation cannot address alone. To provide the proper programs for these youth, the county needs to partner with community organizations that can embrace them and address their needs before they land on probation's doorstep.
For those kids who enter the halls or the camps, we need positive programming from the day they arrive and the partnership of community-based organizations with proven efforts to help youth to help them after their release. We should start looking at other models such as the recent decision to close down San Francisco's juvenile hall. We need to stop jailing our children by replacing adult jail style juvenile facilities to home-like and rehabilitative centers.
I believe the work that the PRIT is doing is helping move this important agenda forward. But as we proceed toward drafting our final recommendations, we need strong community engagement.
Call or email your county supervisor and express your concerns and your hopes for positive change. Your voices matter.
For more information on how you can get involved, visit the PRIT site here.
---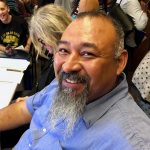 Alex Sanchez is an internationally recognized peacemaker and co-founder of Homies Unidos in Los Angeles.