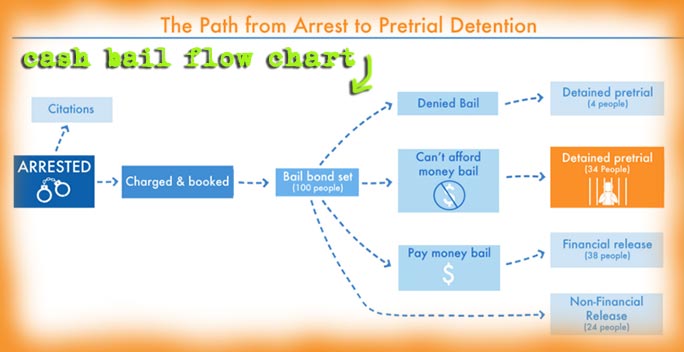 CASH BAIL KEEPS POOR PEOPLE LOCKED UP (UNNECESSARILY) AND IMPOVERISHED
A new report from the Prison Policy Initiative sheds light on the all-too-common practice of locking up poor defendants while they await trial, via unattainable bail bonds.
There are nearly 500,000 pretrial detainees crowding jails across the nation, according to Department of Justice estimates. Despite the fact that it is illegal to lock people up for being poor, cash bail as it is used today creates a punishment-until-proven-innocent system that keeps indigent defendants behind bars, while rich defendants walk free.
PPI researchers found that, according to US Bureau of Justice numbers, jail inmates had an annual income of $15,109 before their incarceration—less than half the median income for their non-incarcerated peers. People in jail are even poorer than people in prison. For black men, the differences are even more extreme. Jailed black men had an annual pre-lockup income that was 64% lower than their non-incarcerated peers.
To put it in context, if a typical bail bond is $10,000, it equates to eight months of income for the average detainee. Even paying a portion to bail bondsmen is often impossible for defendants and their families living below the poverty line.
In New York, Kalief Browder's inability to post $3,000 for his release led to a three-year stint at Rikers Island, most of which was spent in solitary confinement—without ever being tried. Browder came out of Rikers and isolation and struggled for three years with mental illness and the aftereffects of prolonged isolation. Browder tried to kill himself several times, finally succeeding in June of last year. He was 22-years-old.
Some lawmakers are taking note. US Congressman Ted Lieu (D-Los Angeles) introduced legislation earlier this year that would end the controversial use of money bail at the federal level, and block access to Edward Byrne Memorial Justice Assistance Grants for states that keep their money bail systems in place. (In 2012, California received the largest Byrne JAG sum: $32 million.)
The PPI report closes with six recommendations for stamping out the disproportionate and needless incarceration of poor Americans in the nation's jails. The recommendations include abolishing cash bail, increasing diversion programs, no longer locking poor defendants up for their inability to pay usurious fines and fees, boosting funding for public defense, and ending pay-to-stay programs that charge people for their incarceration.
Read the recommendations: here.
---
OPINION: APPROVE BILL TO CURB ASSET FORFEITURE PRACTICES IN CALIFORNIA
Civil asset forfeiture laws allow government entities to seize (and keep) money, cars, real estate, and other property that may be associated with a crime—no conviction necessary. In California and across the nation, local law enforcement agencies are using asset forfeiture as a cash cow.
Last month, the US Department of Justice revived its Equitable Sharing Program, which authorizes local law enforcement agencies to bring feds into an investigation, and thus be able to skirt state restrictions against using seized money as revenue, with only "probable cause" that laws have been broken, not actual convictions. The federal program was suspended in December due to budget cuts, but was brought back to life last month.
California Senator Holly Mitchell (D-Los Angeles) and Assemblyman Mike Hadley (R-Torrance) hope to rein in this controversial practice with a bill that would require a conviction for law enforcement to permanently take money or property from someone. The bill passed out of the Senate with almost unanimous support, but faces opposition in the Assembly from law enforcement agencies and others that are funded by forfeited money.
In an op-ed for Voice of San Diego, Margaret Dooley-Sammuli, the ACLU of California's criminal justice and drug policy director, calls on legislature to pass the bill, saying, "We oew it to every single hardworking Californian who has ever been forced to pay the price of this rampant abuse and injustice." Here's a clip:
…California law enforcement agencies can take and keep innocent people's money and property, because federal law does not require a conviction and actually lets California agencies keep a larger cut of the proceeds than is allowed under state law.

California police are exploiting this lucrative loophole that incentivizes department profits over justice. As with any abusive police practice, policing for profit has taken an especially hard toll on low-income people of color. According to a Washington Post review of federal court records, the vast majority of people who challenged seizures and received some money back were black, Latino or another minority. Other investigations, including those in Pennsylvania and Oklahoma, found similar results.

Right here in San Diego, the city police departments with the fastest-growing seizures are communities made up predominantly of people of color. Between 2013 and 2015, Chula Vista Police Department has increased its haul of asset forfeiture funds by 60 percent, and National City Police Department by a whopping 112 percent. Of the two San Diegans profiled above, one was Latina, the other black.

It is easy to see why vulnerable Californians are deemed easy targets: They are less likely to come forward and fight the government because doing so is expensive and has been known to morph from asset forfeiture into deportation investigations of relatives and IRS involvement. What's more, this practice, which throws the Constitution and state law out the window, can drive already struggling families deeper into poverty.
---
STEVE LOPEZ ON THE STATE OF HOMELESSNESS IN LOS ANGELES, AND CONCRETE WAYS WE CAN START ADDRESSING THE ISSUE
Homelessness is still on the rise in Los Angeles County, according to the latest homeless count—up 5.7% over the previous year (to 47,000), which is less than half of the 12% increase experienced in 2014, but still disappointing. LA County and the City of LA are working on a collaborative plan to help and house homeless residents, but much of the funding is still in limbo.
In his column, the LA Times' Steve Lopez says he doesn't have all the answers to LA's homelessness crisis, but he lays out five thoughts on where city and county officials and non-profit partners can take action. Here's a clip:
First: Someone has to step up.

"We can bring these numbers down," L.A. Mayor Eric Garcetti said of the increase in homelessness. "This could be the year we begin to turn the tide."

Not at the rate we're going.

The city, like the county, has a solid plan to deliver more services and housing. And Councilman Mike Bonin gets credit for pushing hard on creative solutions like making use of a senior center as a shelter and erecting housing on city-owned lots.

But the $138 million budgeted by Garcetti this year is more goal than guarantee, with roughly half of it still something of a mirage.

L.A. County has a more solid $150-million budget for homelessness, and even at that, Supervisor Sheila Kuehl warned that modest sums won't counter economic trends that are "forcing people out of their houses."

Translation: The steady advance of tent cities and rolling homes is headed soon to your neighborhood, if it's not already there.

It's time for Garcetti, and Kuehl, and other city and county officials, to start campaigning for a reliable source of funding — a sales tax, a bond measure, or fees on new development.

Come on, somebody has to take this on. We're going to become the next Calcutta unless some 21st-century hero steps up.
---
LA COUNTY SUPERVISOR HOPEFULS SQUARE OFF ON CHILD WELFARE ISSUES
At a forum held in Pasadena on Tuesday, five candidates looking to replace outgoing LA County Supervisor Michael Antonovich shared their views on improving the county's child welfare system.
During the discussion, which was hosted by Daniel Heimpel's Fostering Media Connections, contenders LA City Councilmember Mitchell Englander and Kathryn Barger, Antonovich's chief of staff, highlighted the importance of collaboration between the county and the private sector to prevent child abuse and neglect.
Prosecutor Elan Carr discussed public education as a crime deterrent. State Senator Bob Huff talked about the serious need for lighter caseloads for social workers.
Entrepreneur Darrell Park said that social workers could handle high caseloads if they were driven in sheriff's deputies' patrol cars, and if they dictated their reports to administrative employees with blazing fast typing fingers.
The LA Daily News' Brenda Gazzar has a good round up of their main talking points. Here's a clip:
Elan Carr, a criminal gang prosecutor, stressed the importance of education to prevent child abuse. Parents, especially young ones, need to be educated on raising children and dealing with normal stresses, such as anger management. Carr said he has forced defendants to undergo anger management counseling under penalty of jail.

"We've got to start really getting serious with education," Carr said. "The only way really to fight crime and abusive homes is to provide nurturing education for all parties involved."

Children must also be taught that violence is not the answer so that they don't carry the practice into adulthood, he said.

Mitchell Englander, a Los Angeles city councilman, argued the county should adopt a public awareness campaign called "See something, say something." Abuse happens behind closed doors and people should be encouraged to report friends, neighbors and loved ones to stop it, he said.

Englander also noted that he's dedicated his life to public-private partnerships and said parents need to be brought into programs that benefit children and stay engaged.

"Government can't do this alone," he said. "This is a partnership. It's a collaboration. That's where philanthropic dollars come in but we've got to be accountable as well and work together."