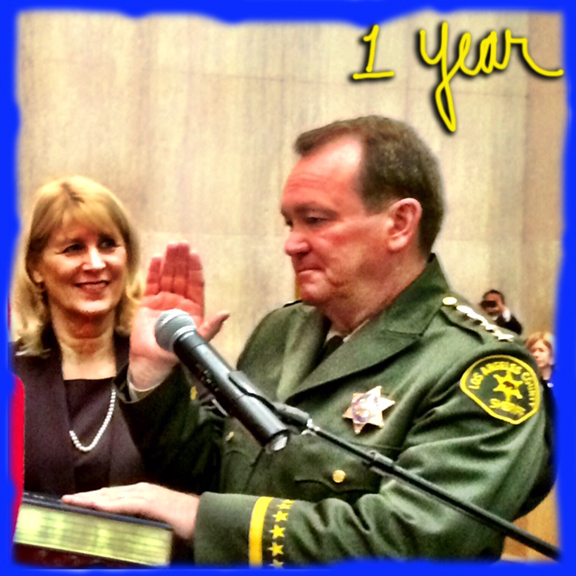 How has Sheriff Jim McDonnell done in his first year since he was sworn into office on December 1, 2014?
WitnessLA will be looking the question in a few weeks, but the LA Times has taken their own look in an editorial on Sunday.
In their report card, the Times made two main points:
The first had to do with whether or not McDonnell has adequately "de-Tanakafied" the department. The Times felt that he'd made a great deal of progress in that endeavor, writing that the sheriff has spent a year quietly overhauling the organization chart to remove those "most closely associated" with the discredited former undersheriff.
Critics feel that McDonnell hasn't gone nearly far enough with de-Tanakization. (But, as we have seen very recently, removing people simply because they have an association with someone you don't like can lead to large lawsuits, so such cleaning projects can be tricky.)
Yet, the Times points to the fact that McDonnell was a member of the Citizens Commission on Jail Violence and, while the CCJV was mandated only to look at problems in the jails, the problems they saw in custody pointed to more fundamental problems that affected the department as a whole, and that started at the very top. In its final report, the commission stopped just short of saying that Sheriff Lee Baca had to go. But, with the then undersheriff, Paul Tanaka, the commissioners pulled no punches at all. They wrote:
The troubling role of Undersheriff Tanaka cannot be ignored. Not only did he fail to identify and correct problems in the jails, he exacerbated them. The commission learned about his ill-advised statements and decisions from a wide array of witnesses and sources. Over the course of several years, the Undersheriff encouraged deputies to push the legal boundaries of law enforcement activities and created an environment that discouraged accountability for misconduct. His repeated statements that deputies should work in an undefined "grey" area contributed to a perception by some deputies that they could use excessive force in the jails and that their aggressive behavior would not result in discipline. The Undersheriff also made numerous statements disparaging the Internal Affairs Bureau ("IAB") and the disciplinary process — remarks that undermined the authority of IAB and the ability of Department supervisors to control or remediate inappropriate deputy behavior….

…Campaign contributions accepted by Tanaka from many Department employees furthered perceptions of patronage and favoritism in promotion and assignment decisions.
And so on.
In other words, when he came into office, McDonnell was very clear about the deleterious effect that Mr. Tanaka—-who has been federally indicted and will go to trial in March—has had on the department over which he had so much control.
The Times writes:
"The organization has a different tone," McDonnell said recently, and that new tone was exemplified last year by the resignation of Assistant Sheriff Michael Rothans, following a Times report that he had purchased a stolen car that deputies had seized from a suspected gang member. Rothans had been a trusted part of McDonnell's effort to reboot the department, but he violated policy, and he was out.
Where the editorial board is less sure is in the arena of "whether McDonnell's reform vision is limited to a thorough de-Tanakafication of the department, or if instead it will embrace the sweeping and overdue reinvention of the criminal justice system now under discussion and underway to some degree around the nation."
In other words, is McDonnell a true reformer?
The Times, right now, has mixed feelings on that question. They write:
There are some discouraging signals on that front. We are dismayed at McDonnell's hostile reaction to Proposition 47, the landmark California ballot measure that decreases penalties for drug possession and other nonviolent crimes. The sheriff acknowledges that instead of arresting suspects on misdemeanor charges, his deputies are often not arresting them at all. Yet he blames an uptick in crime not on his department's practices, but on the ballot measure.

Supervisor Sheila Kuehl did not mention McDonnell by name at a board hearing on Proposition 47 last fall, but it's hard to escape the conclusion that she was talking at least partly about him when she noted that there was no evidence to support claims that the measure is increasing crime.

"I would really encourage those spreading this disinformation to reconsider and be more responsible," Kuehl said.
However, in noting an emerging—albeit still polite–struggle for power between the sheriff and the board of supervisors, the Times' board is not prepared, for the moment anyway, to root against the sheriff.
They write:
The question should instead be who, or what, will bring Los Angeles County a Sheriff's Department that protects safety on the streets and in the jails, constantly improves standards and performance and holds itself accountable for failures. It has been only a year, and McDonnell still deserves a bit of patience. For now.